I get a lot of compliments about the cover of Just by Chance from both readers and fellow writers, and I truly hope the book can be judged by its cover. Here's the cover and its backstory.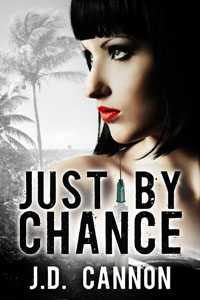 My cover artist is Damon Ra, a very talented young man who hails from South Africa. Damon came up with this cover design after reading an expanded version of the blurb. I was absolutely floored when I first saw it, and was delighted and impressed that Damon was able to capture the essence of the story in his first draft. An iteration or two later we were done. And the entire process took only a few days.
The cover contains several of the key story elements—a beautiful, exotic-looking woman, a tropical setting with beaches and palm trees, and some other rather subtle things that are part of the story. I think the cover fits the story perfectly, and I believe that the story lives up to the promise that the cover communicates. Here are a few comments from readers:
"Just by Chance is hard to put down. Well-crafted characters and a strong plot grab your attention and work together to drive you toward a surprising ending! You must read this book."
"Wow! Just read J.D. Cannon's, Just by Chance. It's a page-turning noir detective thriller a-splash with Florida pastels. Murders, gangsters, a hot computer nerd and cool call girl run through this novel at a fast pace as the reader tries to guess whodunit. And J.D. Cannon keeps you guessing! Read this novel if you like your detective stories witty and racy."
"A page-turner for sure. I could not put the book down."
I can't wait to see what Damon comes up with for the cover of my next novel, Imposter, which is currently in the process of being edited.