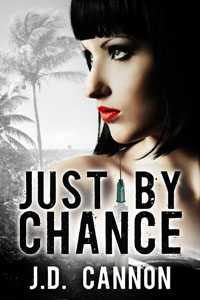 Just By Chance is now available in paperback here. This is what readers are saying about it:
"An excellent page-turning thriller that you cannot stop reading."
"Well-crafted characters and a strong plot drives the reader to a surprise ending."
"A page-turner for sure. I could not put the book down."

When high-class escort Kim Carter goes out for a night on the town with New York mobster Vincent Molini—the last thing she expects is to see his picture plastered all over the news. Molini has been murdered, and Kim was the last person he was seen with the night before. With the help of Kim's friend Nikki—a talented computer hacker—Kim manages to skirt the police and go into hiding in the Florida Keys. But she isn't completely under the radar…New York crime boss Frank Famulari suspects that Kim is somehow involved and sends a team of his cohorts to find Kim and learn the truth about Molini's death.
Just By Chance takes the reader on a gripping ride of murder, betrayal, and loyalty. Can Kim find a way to stay alive and maintain her innocence, or will she suffer Molini's fate?